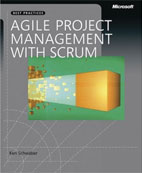 I bought and read Agile Project Management with Scrum as an attempt to understand how agile project management looks on a practical level. This book does a good job of reviewing the basic principle of agile project management and some examples of the types of challenges that come from this development philosophy. The book suggests frequently that the philosophy is simple but not easy to implement without an open and collaborative development framework. This process fully embraces a team that self-manages themselves to completion of the project. And yet in my limited development scope I don't know any developers who work in this fashion. I got the book thinking I would gain some insights in hopes of better managing an agile process or at least move toward a more collaborative environment in my own company. And yet I have to admit I cannot fully comprehend how this would work in any company based on the tendency for employers to not fully delegate and employees to not fully solve their own problems. Even if it's verbally suggested, it is contrary to our 'industrialized' education. Tell me what to learn is our first resort. Maybe that says more about the company's I've worked for than the philosophy itself but I don't believe we could find many that have the people or capacity to work like this. 
At minimum, there have to be multiple people that are extremely skilled at navigating the mirky waters of project management and the completion measures that are expected from the top down. This is completely contrary to the commonly taught project plan, execute, and validate method. I can't even begin to understand how to tackle such a problem and challenge in my company even though everyone in the company knows the previous used method was a failure.
Agile Project Management Process
I wish that the book had focused more on teaching me as simply as possible how the process works. I don't feel they did an adequate enough job explaining the details and the process. They simply explained that there is a project backlog where all the specs/requests are listed and that there are a few meetings to get things started and a 30 day sprint to complete followed by a sprint review. Then repeat the process. The book then follows with examples about how some companies did a good job incorporating a self-management philosophy and others not so much.
Without any real frame of reference for a collaborative development environment my own efforts of attempting to lead design web projects have been often seen as a lack of communication causing projects to take much longer than ever expected. And I assume that projects will only continue to be a guessing game and one where validation only comes at the end when all the pieces come together to be tested. Atleast I have been exposed to a different method though foreign it may seem.
I read and reviewed another book that is a good precursor, The Lean Startup by Eric Ries. It gives an entrepreneurial big picture overview of agile development and planning with validation being early and constant in the process. Only thing is I think if you want to get into the details this book doesn't tell enough and requires a successor. There is a program to learn how to be a ScrumMaster. I don't know that anything but one on one training and experience could fully prepare a facilitator of Scrum projects how to empower developers and executives to embrace this model.