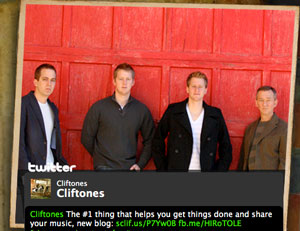 Over the years, I can count the number of times on one hand that we were booked to play an event where we had 5 people or less show up. One of those times we had the guy that booked us and his wife as the only two attendees! Fortunately, we had been booked before by the same guy (in a different setting) with a lot more success. But, regardless, just because you put out good music or albums doesn't mean that you can predict when people will actually make the effort to come hear your show. Although this might be a bit surprising to you, it is not uncommon for fairly popular bands to have a few really low attended shows. What happens in this case? You role with the punches and put on the best performance you can for the small crowd that comes. One new fan is a fan nonetheless.
As a new artist, you start with a music teacher and sign up for the music recital if there is one. Then move on to get a few nods from your friends and family. Once you've got a few of these different experiences under your belt you might want to try out your music on strangers in a commercial setting. By that I mean, a place where people are paying which means they aren't there just to encourage you. You don't need to concern yourself with the challenges of booking and fans for a while when you're getting started. Instead you just want to test out your art on people and the best place for this is at a coffee shop's open mic night. All commercial venues are concerned about numbers. But the coffee shop is the one place I know of that is open to building community that goes with an open invitation to willing musical participants.
Do a simple search online for coffee shops in your area and see if there is an open mic night scheduled. They are typically come and go. Invite a few friends that you know would cheer you on and maybe even find someone who'd do one with you!
If you're still a little nervous just go experience one with a friend and you can feel it out a bit. I would assume there is a difference in receptivity between open mic night on the jazz strip in downtown Chicago over open mic night in rural Tyler, TX.
Oh, and don't forget to just have fun!
About this Series:
See the first post in the series on Sharing Your Music.