I recently finished Innovation and Entrepreneurship by Peter Drucker. I have to admit, this guy is in a world far more advanced and educated than I am. He made presumptions about the economy and its need for innovation and entrepreneurship that were profound and yet as plain as mud that only someone with decades of experience and knowledge can make. This is a man who had some serious experience consulting with the likes of GE, Coca-Cola, IBM, Intel and many others. The first half of the book seems to be forming a thesis of opinion based on actual events and practices of innovation and then entrepreneurship. He simplifies the idea of entrepreneurship and innovation and takes often hazy concepts and whittles them down for you and me to take in. But, it is not a light read by any means. This actual isn't the first time I picked up this book to read it. But, I like stretch goals and challenging my brain is something that I look to do to keep improving in my understanding of bigger topics than just my situation.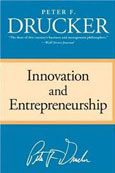 The last 60 pages discussed the entrepreneurial strategies that prove consistent in the processes that were addressed in innovation and entrepreneurship from the first half of the book. Because this book is so rich and can't possibly address the depth in one blog post, I will just mention the relationship that the concepts introduced with his book have with the idea that I've been working on.
The entrepreneurial strategies presented were of 4 types.
The Fustest With the Mostest

– aiming from the start at a leadership position if not at dominance of a new market or industry, shooting for domination of a market and is quite ambitious, is typically outside of the market and often is outside of the field which means he doesn't know what can't be done, it therefore either hits the target right on or misses it altogether. If it does not work right away, it is a total failure.

Hit Them Where They Ain't

– this is a type of creative imitation, it is something already done, but understands it better than those who have already done it. The one that comes to mind is Apple who originally created the personal computer but IBM took over their market. 'The creative imitator does not invent a product or service; he perfects and positions it.' p. 223

Ecological Niches

– this 'strategy aims at control' p. 234, obtaining 'practically a monopoly in a small area' p. 234.

Changing Values and Characteristics

– this category is specifically an innovation but it 'converts this old, established product or service into something new. It changes its utility, its value, its economic characteristics'. Ultimately they create a new customer that has not been there before
My Application
I believe my guitar curriculum and service that I'm working on is based on the changing values and characteristics in the market of guitar teaching. I'm trying to provide a different kind of value and utility than what has been provided before. It may of course already be provided by web teachers but with a few unique aspects to my specific background and experience.
A few of my favorite moments were as follows:
The book discusses a solid marketing foundation in that 'an entrepreneurial strategy has more chance of success the more it starts out with the users…the test of an innovation is always what it does for the user. Hence, entrepreneurship needs to be market-focused, indeed, market-driven.' p.252
Drucker references David Ricardo, the father of systematic economics, who was believed to say, 'Profits are not made by differential cleverness, but by differential stupidity.' Drucker then asserts 'the strategies work, not because they are clever, but because most suppliers do not think.' p. 250
Do you have any of your own personal strategies that you're working on?