I had one job for about a year where there were more details than I knew how to handle. I experienced constant frustration and additional stress trying to keep up with these details in the way I was expected. It added hours to my day that I thought were irrelevant to accomplishing the goals of my position. The fact is I spent more time trying to recall the information that was provided to me than actually dealing with real issues. I initially thought that I was incapable of the job because I kept missing the things that mattered most to my bosses. I didn't see the connection between the important goals and my bosses concerns. Because of this I was at a loss. What made it worse was when I expressed my frustration I typically got a "you can do it" speech. Eventually this turned to, you better do it. I'm not proud of this fact of course. But I felt a little hopeless.
The suggestions I was given by my boss for improvement were not what seemed to me my most pressing need. I started trying to improve my organization skills in hopes of bringing myself back into my boss' good graces but it would be a hard road to correct. I did regain a bit of life for the position but I was a little too far gone it seemed. After struggling to recoup I resigned from the position.
As I began studying how to improve in organization and time management, it led me to a much greater charge for myself personally. I realized I needed a way to capture details as I process them and either complete them in a short time frame or have a place to store the next step. The next step would be stored somewhere other than my brain. This improved organization for sure. But, it also improved my ability to think creatively, be flexible, and handle details that didn't mean much to me personally but meant something to someone else. I spent too much time worry about if details were important or not. But I didn't have a process to organize my thoughts and drop or pick up projects where I left off. There was no time for maximum focus on what I thought would help my clients stand out but wasn't in the whirlwind of my bosses expectations. With a better processing method, I can think about how and why immediately and place the next action detail regardless of its relevance so that my system reminds me. With this system I can capture so much more than what I care about at this moment.
Getting Things Done book review: A Great Resource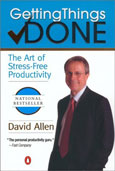 One of the resources that has helped me is the book, Getting Things Done by David Allen. The fortunate thing about my job frustration is that I had about 6 months of real on-the-job training for the book's principles while I was still at Time Warner. David has helped me maximize my time and handle a lot more projects than I would be able to on my own brainpower alone. It's made a huge difference for me. I prioritize everything in this process because I don't want to leave myself to try and remember certain things at the time I need them. Instead, I get to spend most of my day still thinking about creative ideas and how to move things forward in the areas that matter most to me without neglecting the other needs that are necessary.
His book wasn't necessarily an 'easy' read because it wasn't fun per say. What's fun is the results of creating an inbound system for your information. You get to actually complete stuff.
My Favorite Tip
David Allen puts all incoming data into an inbound process. If the next action requires 2 minutes or less then you stop what you're doing and take care of it right then. If you can't complete the task in less than 2 minutes then create a next action step and process it into a filling system to be reminded of in the future. These next action steps allow you to plan the how or why immediately and move to actions. Now when your system reminds you of the next step all you do is simply complete it or trash it.
This did wonders for me as what causes the biggest strain on my energy is the how and the why. Once I handled this and moved to next action steps my mind is freed up for the creative thinking that I prefer. David Allen explains that tools to capture the data will continue to improve and evolve and each person's method might be a little different. But the principles are what needs to be taken from this book. It was written over 10 years ago but still applies today. Here are some more tips and principles straight from Getting Things Done:
'The reason to collect everything is not that everything is equally important, it's that it's NOT. Incompletions, uncollected, take on a dull sameness in the sense of the pressure to create and the attention they tie up.' p.232
'I suggest that you use your mind to think about things, rather than think of them. You want to be adding value as you think about projects and people, not simply reminding yourself they exist.' p.233
'It never fails to greatly improve both productivity and the peace of mind of the user to determine what the next physical action is that will move something forward.' p. 237
'Defining what real doing looks like, on the most basic level, and organizing placeholder reminders that we can trust, are master keys to productivity enhancement.' p. 239
'It's really the smartest people who have the highest number of undecided things in their lives and on their lists.' p.240
'When you start to make things happen, you really begin to believe that you can make things happen. And that makes things happen.' p. 248