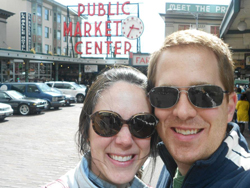 This was the second book that I read on my wife's and my trip to Portland in April. It was a refreshing time for us. This trip was a great one to read this book as Katy and I took our first trip just the two of us together. No doubt this book rejuvenated my spirit toward being a leader by example, specifically in my family, but also beyond, to display the love of God and His truth. I highly recommend Family Driven Faith by Voddie Baucham.
How this Book Struck a Chord with Me
I feel certain, this book, will be my favorite of the year and possibly the decade, one that will be on my shelf for years to come. The issues of cultural Christianity in America have been irritated in my heart for many years and some of the remnants of that in the complacent church and the dying functional & healthy family. How do we appropriately return to the fundamentals of the gospel? A fundamental return is necessary for many reasons. I believe it is for the sake of God, me, my children, and other Christians who have a vastly different culture to grow children in.
I was very fortunate to have well-grounded parents and a home church that overall encouraged the faith. Less and less are as fortunate as I once was in a culture that looks to remove God from every 'public' activity and churches that, in an attempt to cater to a person's every 'need' choose to segregate members from other generations in order to meet them where they are. Voddie reminds me of statistics I've heard before – a startling number of "Christian children' are leaving the faith. Regardless of all the challenges outside of my control regarding the faith and Christianity, Voddie believes we're looking at the church or some other lesser factors as to why children are leaving. Voddie reminds us that the church is at best a support role in equipping saints and wrote the book to 'motivate, correct, encourage, and equip families to do what God commands concerning the next generation.' p. 9
Takeaways from the Author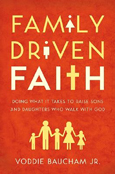 Voddie has given me a glimpse into his life. A child raised in a Buddhist household, saved as a young adult, and see the hope of a family focused on God. He starts the book outlining disbelief in absolute truth and asking what really is the most cherished part of our lives? Husband and father are his most important 'titles' and then with the Scripture slowly breaks down the barriers in my own heart but does not neglect to build me back up. 'It is my relationship with my wife and children that gives my walk with Christ legitimacy.' p. 16 and reminds us that our wife is our closest neighbor (Matt 22:34-40).
There are a ton of takeaways but Voddie encourages us in teaching a biblical worldview to our children. Though I do not have children, I still found these lessons very applicable to my life and food for thought when I do have children. As no upbringing is 'perfect' in the same way no human being has attained perfection, it helped me break down barriers that I might have missed or at least view from a different approach to guiding a family in faith. Voddie then goes through points of teaching and living the Word at home, making the home God's territory, enjoying God's gifts without forgetting God and then how this new family focused approach might look outwardly, such as in a school, church and community.
Your Thoughts?
Family Driven Faith was a great encouragement to me and I hope it will be to you also. If you have any personal approaches to encouraging family faith or how others might practically live this out, please share in the comments. Would love to hear thoughts.