My wife and I have been visiting the Dallas Public Library recently and I have found a gem or two in the last couple months. I'm sure you're wondering why we were at the library in the internet age, but we have our reasons and that's another story. The book I picked up was The Lean Startup by Eric Ries. It was very timely considering I have only recently been introduced to agile project management by Seth, a friend of mine. It's the concept of just-in-time production and shipping over perfecting new business ideas, products, or models to the point that it's perfect before introducing it to the market. This idea is fundamentally against the traditional education method. Instead of building the model perfectly aligned with what our assumptions tell us, we build a minimum viable product and let the market communicate if we're on the right track or not constantly iterating after the fact.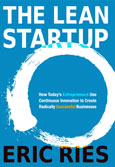 Of course, you can make the case that you know what the market wants by focus groups or any number of test measurements or possibly even intrinsically proclaiming as Steve Jobs did that he knows what consumers want more than consumers know themselves. I'm not denouncing Steve Jobs uncommon skill of course. But who has the advantages of a kingdom (Apple) in which you are the czar. Steve was revolutionary in his method of creating products but his method is not reproduceable for you and me because of this fact. We're still interested in praising the 'gifted' over the likelihood that we can find a reproduceable example or learned skill to amount to something extroardinary as well. If you remember Jobs had the market taken away from him by Microsoft. So, he had failed who knows how many times before he the market was ready for his innovations and he had the ability to implement them successfully. In the end, if a consumer doesn't spend money on your product, then it is all still speculation and you don't know if your product is going to succeed.
Based on my traditional American education I am conditioned to shoot for a perfect product by guessing based on a set of 'discernment' skills the exact target market and how the product will fulfill their need before I build it and then share it. With this I create a product that often looses the simplicity of providing a service that accomplishes one or two goals. Instead, if I'm going for perfection, I attempt to fulfill too many supposed needs. And yet, Eric Ries premise for his book is, when creating a product or service that is incrementally different or better than other current market offerings, why would you create the perfect product initially? Instead, you can create a just-in time model to test a facet of the full model on market adopters to see if you've selected the right product and the right market. What he's talking about is not market research. He's talking about shipping a product and then making adjustments once the market sees the model. He suggests to 'Build-Measure-Learn'. And by doing this you create an environment of not just creating products and services that find the consumer. In essence, you find the consumer and then match the product for their needs instead of making the product and then finding the consumer. This idea was a great introduction to this possibility of creating entrepreneurial advancements and how to move further in this direction.
The structure of how this works in a business setting does not allow for disconnected and uncommunicative departments. In fact, the days of task accomplishment for the sake of doing what you personally need to get done has no place in this business model. Every day teams work together to accomplish and bring to market the next iteration of the project. This is a more focused and collaborative approach. Eric Ries discusses the theory and gives his personal failure and success stories in the Lean Startup method. I will follow up this book with Agile Project Management with Scrum by Ken Schwaber to learn more of the details of this process.
Do you have any experience or success stories with lean startups or products?