I mentioned in my last blog about Michael Hyatt recommending The Power of Full Engagement: Managing Energy, Not Time, Is the Key to High Performance and Personal Renewal by Jim Loehr and Tony Schwartz. I went through it over Christmas break and through the first few days of 2013. It is a good reminder of the importance of energy replenishment as well stories that provide validity for it's impact on performance.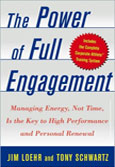 The book is based off of the two authors working in the athletic development arena and helping professional athletes receive maximum return. Athletes work in very different arenas than the 8-5 employed working individual. But, Jim and Tony have had success applying the same philosophy to all areas of life and business.
Some of My Favorite Spots
Some of these are reminders more than new insights. But it's good to fully understand how to maximize results.
A Baylor Medicine and others have found evidence that the brain 'operates like a muscle-atrophying from disuse and increasing in capacity with active youse, even later in life'. Richard Restak, a neurologist helped explain, "No matter how old you may be at this moment, it's never too late to change your brain for the better. That's because the brain is different from every other organ in our body. While the liver and lungs and kidneys wear out after a certain number of years, the brain gets sharper the more it's used. Indeed it improves with use." The authors go on to point out that 'because the mind and the body are so inextricably connected, even moderate physical exercise can increase cognitive capacity'. Exercise does not only drive more blood and oxygen to the brain it 'is also believed to stimulate more production of a chemical which helps repair brain cells and prevent further damage'. p. 101
The book addresses purpose as a large source from which to do life. Purpose also 'becomes more powerful and enduring source of energy in our lives in three ways: when it's source moves from negative to positive, external to internal, and self to others.' For example, there is emphasis placed on moving from 'the inner experience of threat to one of challenge, we introduce a whole new range of possibilities into our lives. Rather than reacting to fear, we can focus on what moves us and feels meaningful." p. 135
The book goes further to discuss extrinsic and intrinsic motivation. 'While money serves as a primary source of motivation and an ongoing preoccupation for many of us, researches have found almost no correlation between income levels and happiness. Between 1957 and 1990, per person income in the U.S. doubled, taking into account inflation. Not only did people's reported levels of happiness fail to increase at a ll during the same period, but rates of depression grow nearly tenfold. The incidence of divorce, suicide, alcoholism and drug abuse also rose dramatically." p. 137
Finally, 'the pursuit of power or wealth or fame may all be sources of motivation, but these goals are external and often fill deficiency needs rather than serving growth and transformation. We may value crushing our enemies, or amassing more money than our neighbors, or achieving social standing and prestige. But these are not values as we define them in our work with clients. Values, we believe, have intrinsic worth. They provide a source of inspiration and meaning that cannot be taken away from us.' p. 141
My Takeaways
If anything I hope to have wet your appetite for the possibility of addressing the purpose behind what your doing so when things get difficult, and they will, you know in your heart how your work, life, and interactions with people are making a difference. This book helps provide clarity so we can be better at prioritizing what we say we believe but often don't really put into practice.
Any thoughts on how you're managing your own energy?