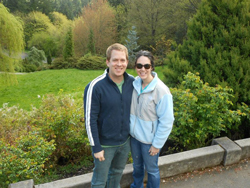 I got Quiet: The Power of Introverts in a World That Can't Stop Talking from a recommendation and read it in Portland last year on a trip. I was looking forward to diving into the book as I like reading about left and right brain and diving into extrovert and introvert topics.
The Mighty Likeable Fellow
Susan Cain's story begins with the rise of the extrovert in society as the 'mightly likeable fellow' and add to it good looking and tall and we land on a sort of 'Extrovert ideal'. As she formed her hypothesis, I felt she went overboard, at one point discussing charismatic leadership as a formula to run from when she personally experienced the hyper-positive reinforcement of a Tony Robbins seminar. In my mind, she moved beyond the simple dissection of extrovert and introvert and how to magnify the benefits of the introvert. Instead she seemingly wanted to disassociate introverts with the negative tendencies of extroverts altogether – such as an over-inflated ego. I do agree with her suggestion that society prefers the extrovert but I disagree that an introvert cannot maintain the likeability of an extrovert or doesn't have the capability to experience the ego of an extrovert who is liked by all. We do, it just might be expressed in a different way.
What is An Extrovert or an Introvert?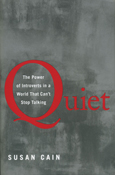 Ultimately I believe it comes down my having already formed a definition of an extrovert as someone who receives energy from people and an introvert as someone who receives energy from time in solitude. Although, the author did not suppose any sort of declaration between the difference at the outset other than the negative qualities of the extrovert.
A Few Connections
Because of her initial chapters I struggled to accept much of what she said. I held on to the end of the book because she would reference tenets of philosophy and other authors that I could connect with at times. And, I was glad to read her personal confrontation with defeating her own fears of standing up for herself in her business pursuits instead of resorting to her introverted nature to think and ponder the world at large.
Introvert Leadership
Ultimately, I would suggest several other books to review the introvert/extrovert subject in society. Specifically, Jim Collins book Good to Great, which is referenced in the book would be a great starting point to learn more about how introverted characteristics can provide solid leadership in organizations.