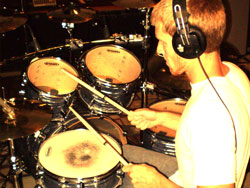 A professional studio session usually begins with recording scratch tracks which means you record each song with the core rhythm group. Then you record each instrument separately with the scratch track to play along with. Therefore, the scratch track sets the foundation before actually recording. Recording each part individually allows more customizable editing and modification in the mixing process. These things have an effect on how you should prepare for the studio.
Knowing that the first thing you do in the studio is lay down scratch tracks, the best plan is to confirm that you have the full rhythm section needed for practicing and preparing the core of each song. Do you have a full band? If not, do you have the minimum required to create a good scratch track? I.e., if you plan to use drums, you would want the drummer on the scratch track and usually a guitar or piano (or whatever instrument drives the rhythm) plus the lead vocal. Whatever that rhythm section is, you want to prepare with the core foundation before going into the studio. The more you can prepare with a full band the better.
Your goal is to limit the focus on individual contribution in the studio (basically studio musicians) specifically on your core rhythm section. The only exception is when you can allow them to understand the direction of your song before the studio. This isn't practical for most artists without serious technical capability. And, hiring a bunch of studio musicians to record your core rhythm section without a real grasp of what you're doing actually detracts your album from a tight sound. Regardless of how good the studio musicians are, I've seen too many albums that weren't together because each musician took the song in a different direction. So, for your benefit, as much as you can plan and prepare the basic structure of all your songs with the rhythm section that will be playing on your album, do so before you are paying in the studio.
How Cliftones Prepared for the Studio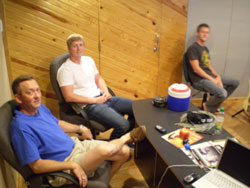 Practice first as a band brainstorming ideas and forming the direction of each song. For Cliftones, this meant Mark would write the content for the song with his guitar and a general lyrical direction. Sometimes the lyrics were complete, other times, just a verse and chorus. Depending how thought out the song was, he would take the idea and run it by me if he still he needed creativity or wasn't fully convinced he liked it. Otherwise, the song's he already fleshed out and had a clear vision he would present to the band during practice. After having a practice or two we would usually know if we like what we were hearing or not. Then we would narrow down to a direction for the studio. I would then take GarageBand and create a rough draft of how the song would go with a metronome and a tempo selected. I would then run the tempo by the band and we would practice the song with that tempo. If it felt too different in our practice session than it did on the GarageBand track, then we would change the tempo to the preference of the band. Once we were happy, I would write out in detail every instrument and each part we envisioned adding something to each song. The main thing is to be confident in the core direction and the tempo and you can run additional creative ideas by the recording engineer. It's not uncommon if we can find a song that fits the direction we're wanting to go with one of our songs and that can help them better understand and give feedback.
If you do each of these steps, you will be better equipped in the studio. One last thing as a warning: if it's your first time in a professional studio you are likely to be living out a dream. Everything will sound awesome with professional recording equipment and great speakers! It's your job to be as objective as possible so you can get the most out of your studio session. This way you won't be disappointed after the nostalgia wear's off. You want to be happy with your recording for years to come. And you want others to feel the same way.
If you follow these steps, you won't be disappointed. Good luck, and if you need any help planning or coming up with ideas don't hesitate to shoot me a message.