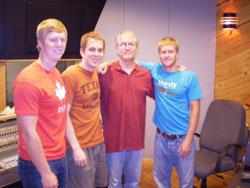 Cliftones have recorded two full length professional quality CDs…that's recorded, mixed, and mastered for under $6000. These are in studios with recording engineers who have produced top artists with Grammy award winning albums. We also had the benefit of me being a graphic designer so the only cost of production was the actual printing and reproduction of the CDs themselves. But the recording process alone costs most bands $10-$15,000.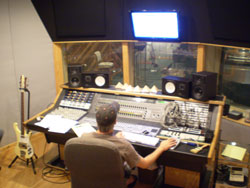 There are ways to significantly reduce the cost of your production without reducing the quality of your product. Your record is the greatest marketing tool outside of you performing and meeting people so you want to put your best foot forward by providing a quality product for people to listen to. So let's start with the most important aspect of getting a great professionally recorded cd for $6,000 or less.
Tip #1 to Your Dream Album
First, hire a recording engineer that you like the quality of the product that they have already produced. And second, hire someone that you like. If you can't get a feel of whether they're a good fit over the phone ask if you can come by for a tour so you can get a feel for how they work and the guy(s) you'll be working with. In my experience in recording you get what you pay for. And then, if you get someone that you like and that likes you it will go a long way in the engineer not just doing a job but having a part and contributing on your cd.
Hiring a quality engineer will allow you to not concern yourself with the details of capturing the quality sound that you're looking for. You want to focus your time on your music and making sure that you're prepared and have a plan for the studio. It's a lot more productive for you to tell the recording engineer ideas of how you'd like to embellish on top of your raw recording. Let him do what he's good at which is creating the sound that you're asking for. If you're confident in his abilities, give him your ideas and the liberty to give his creative feedback.
I want to be clear that I'm not encouraging you to create music that you cannot perform. There is too much autotune going on these days. A little autotune can be a small enhancement but it's tempting to go overboard. The song that you have and the way the recording engineer captures that song are two entirely different things. That's why you can go hear an artists live and from a sound quality perspective they sound great but then you purchase their CD and it's nothing like what they sounded like live or vice versa. That being said, when people listen to a cd they have a different expectation than when they're at a live concert. So, you can go a little above and beyond but the core of the music should speak to the band's true sound. And there are many tricks to enhance the original sound of your music that only a quality recording engineer can provide. So realize that when you record an album you need a recording engineer that's an artist as well. And you want him to care about the quality that he's producing.