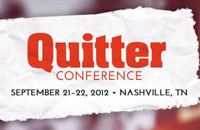 This past weekend I was in Nashville for a wedding and it just so happened I was able to go to Jon Acuff's Quitter Conference. After the fact, I know that Jon had a specific message for me. I fully believe God was using him to confirm that I am on the right track and to keep hustling. In order for you to understand my perspective I need to share my background up to this weekend.
My Introduction to Quitter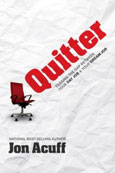 I first picked up Jon Acuff's book Quitter about 5 months before I would quit my marketing job in early 2011. I was basically forced out as I was on my second warning and one away from being let go. I had previously tried to redeem some of the mistakes I had made early on in the position. But ultimately I was not a good fit for the job and therefore my heart was not in it and I constantly felt defeated. This is after I had already been laid off of two other jobs since I first moved to Dallas and after completing my MBA.
If you can't tell, a lot of my preconceived ideas about work after college were crumbling to the ground. I had worked jobs since I was 12 from refereeing soccer to house construction so I was no stranger to working hard. And I had become functional or good at most of what I tried from a young age. But over the last few years God has continually brought me to my knees forcing me to question my own methods and what I expect out of my life and work.
Attacking the Cause
I have always been very analytical. But ever since I lost the first job in Dallas I was even more inquisitive trying to learn as much from these failures as possible. I specifically struggled with the connection point between trusting God and being responsible. For instance, what if I had a dream that might not look like a traditional job? What if I couldn't guarantee a check every two weeks or even one on the plan that I was more interested in pursuing? Looking back now I can see that God placed one mentor and Jon's Quitter into my life to begin the healing process and provide accurate perspective. While most books didn't specifically say 'quit your job and all your dreams will come true' there was just too much fluff and that's what I felt when I finished them. I also struggled with looking for the approval of others over what God seemed to continually place on my heart.
Jon in his book Quitter specifically encouraged me to 'hustle' while being faithful to the job that I am in. He shared that God might be using my day job to groom me. And although I didn't really want to hear it it was true. I knew God wouldn't increase my influence until I was faithful in the small areas. Jon also began helping me see that I could not expect to move forward on my own if I was floating indecisively back and forth between many different interests. I just wasn't ready to jump ship because I wasn't focused.
Over the years God has been forcing me to learn from my failures in order to better know who I am in Him and how I can improve. Before I was often mentally checked out of my day job as I was thinking about the stuff that I cared about. Quitter was one of the tools that helped me understand that I needed to relearn how to work and enjoy it for what it was, a platform.
Work Healing
I quit the marketing position as I had all but been forced out already. I decided to start over working for a company that I could learn from and hustle in my free time to complete one dream to write a guitar class curriculum. I worked for about a year in two different jobs that weren't much more than minimum wage. I needed to remember how to work and be content in the satisfaction of doing a job well.
Going to Quitter Conference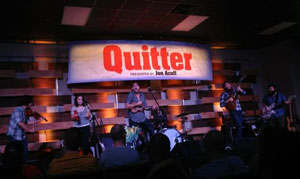 Slowly God has provided more opportunity from teaching adjunct to a full-time position that aligns more with my goals! I'm also continuing to hustle before work converting my three guitar curriculums to digital. I have also gotten married! This year I took Jon's challenge to create my own Finish Year list that's been very actionable for me as well. I never thought I would be able to go to a Quitter Conference but it just turns out that I was going to be in Nashville the same weekend for a wedding. Since this was the only weekend my wife and I are 'splurging' and the cost was affordable I was able to go!
I quickly knew after the first Saturday morning session I was in the room with some phenomenal hustlers. In every message it was as if God was freeing me to continue dreaming and that I am moving in the right direction. There were moments it was as if Jon was sharing my story. The guest speakers also provided personal stories to glean from. But Jon helped me not only identify processes to help focus but taught me how and why. As a result, I have two pages of actionable notes that I will use to hone in practicing my dream while becoming better at imagining, capturing, and executing. Most importantly, Jon and his guests provided excellent coaching in how to pursue these dreams while not neglecting the higher priorities of God, family, and relationships. My dream should never take the place of those priorities. I don't know what the future will bring but I am thankful for mentors God has used like Jon to provide perspective to still be a dreamer and execute.