Cliftones have lots of musical heros. These are those that speak to us in a profound way through their music. When we were all in middleschool and highschool one of our musical heros was Shane Bernard and Shane Everett. Specifically, the Psalms cd was a big inspiration of musical creativity and truth of the gospel.
When recording our second full album, we decided to record in a studio near Dallas. We ended up recording at Shane and Shane's studio, Spaceway, near Duncanville. We hired a great recording engineer, Travis Brockway. But, we were also able to have Shane Everett sit in as our recording engineer for about a 2 hour session while we our engineer was out for a short afternoon. So, we got to see Shane Everett in action. Shane Bernard came in and visited with us on a different day as well. Mark was able to tell him the influence he had on Mark playing the guitar and singing.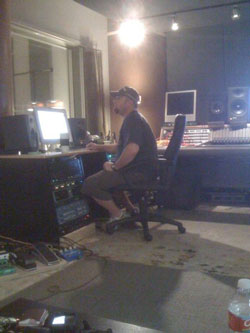 When we were discussing ideas for one of our songs we envisioned a high harmony part that was a little too high for me. Travis, our recording engineer, was also able to pull some strings and get Shane Everett to record the backup vocal for us. Listen to sample of Shane Everett with Cliftones. By the way…Shane Bernard and Everett are extremely gracious and regular guys.
It was a fun and memorable experience for us. Have you had any cool experiences meeting your favorite artists?