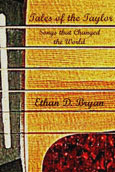 Ethan Bryan, a writer and musician, is sharing his art in a unique way. He shares songs in concerts and asks artists to draw on his guitar. While Ethan shares his musical gift, he is sharing the stories of his music and other artists who have impacted his life, and his guitar, along the way. And he shares the interactions of these experiences with others to call out the art inside of everyone.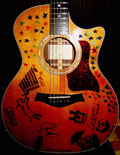 This is one of the stories that hit home with me in Ethan's book, Tales of the Taylor. He begins by sharing his childhood dreams of Royals baseball and draws me in as I relate in the simplicity and grandeur of my own childhood imagination. His stories of connecting with people and not being afraid to dream bring out my own often suppressed ideas and remind me of the great joy I receive from imagining. Ethan also shows more evidence toward the idea that our greatest impact as individuals in the world is often the stuff that we've already got inside of us. If we'd just learn to share the art within us regardless of the fear that tells us not to.
Go to Amazon to purchase the Kindle book version or visit the publishing website, Electio Publishing to learn more about Ethan's writing!