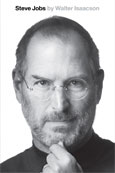 I've had Steve Job's book on loan for a while and over Thanksgiving break was able to read the book. I love biographies of people who have accomplished great things or are successful in some specific area of their life. Add on top of that an innovator or one who thinks differently and I can appreciate simple details of how they became the man or woman that they became. Anybody who wants to create some sort of art must develop a skill and have a perspective that allows them to view things differently. In a lot of ways artists have a better understanding of realities. In Steve's case, he had many gifts but it seems he had the negative effects of all these gifts more so than other successful people I've read about. From the book it seems that Jobs was never expected to follow any sort of guidelines or rules of even simple measures of honesty or respect. Here are a few of my takeaways from the book.
Steve Sees Things
Seth Godin is one of the most forward thinking marketers who is shaping the way people are sharing ideas. He has said that his greatest skill or distinction is an ability to see things. I believe the same is true about Steve specifically in the world of computers and technology. Steve asked the hard questions and probed to the point that it was uncomfortable in order to understand the deep root issues and find the correct resolution.
He Was Incapable of Wrong
Unfortunately, Steve also held the negative aspects of being able to see relationships well. His perception and intuition level were very high for himself but he did not consider many things from other people's perspective unless he benefitted from it. He was a great manipulator when he didn't get his way even to the point of crying when all other methods did not work.
He was an Egotistical and Territorial Perfectionist
He was never willing to give others the benefit of the doubt even when their idea was a good one. One thing that is good, is you were never questioning his expectation of you. But there were many instances regarding other's ideas that he would be belligerent against and would take credit for it later.
I would love to make a lot more determinations from the book but it seems so far outside of the reality that most of us live in. Steve had an adverse sort of 'disorder' for anyone above him. He never learned to submit to authority and as a result never learned to lead well. He did create a great company and was connected to some great companies. And yet, his family was another story. Those you are close to tell the true story about your character and priorities. It's hard to take anything else from the book that can be used in my own life as I don't want to be seen as anything close to what Steve was outside of his ability to see relationships and perspectives well.