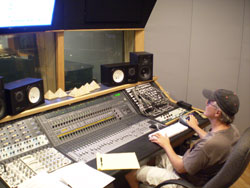 After you determine how many songs you want to record and have negotiated a rate with a recording engineer you want to make sure you're fully prepared for your session. In order to know how to proceed you need to understand what the goal of the 3 to 4 day session is. You're trying to record as much as you can in a fairly quick time frame. In order to do this, you need to be prepared but you also should be familiar with how most studios work.
Good recording engineers are always in demand. As a result, they will have multiple projects and artists coming in and out on a regular basis. For your needs, blocking out the studio for 8 hour sessions will help your cause. For starters, every time you have to bring in a new instrument and/or rearrange the studio there's an initial set up that the recording engineer needs to mic and EQ your instrument. He also wants to match the recording quality with the overall sound and feel of your project. This could take 15 minutes to an hour and a half depending on the complexity of the instrument that you're loading in and the tools that are being used to record. This is one of the main reasons why I find it important to block out of the studio session for 3 to 4 days if possible and get the studio hourly rate.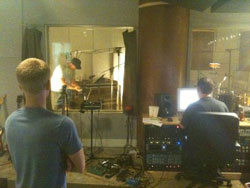 At the end of your scheduled studio session, you want to be finished laying the foundation for each song. But make sure to calculate into your budget additional hours after your session is over. There are always a few creative ideas and extra things that you didn't think about before the session that you aren't able to get to that you'll want to add time for. Cliftones typically spent an additional 4 to 6 hours after our three day block of studio time. This would be an hour or two an evening on a weeknight and would be some additional touch to the project that could be done without need for the full band consensus or any major EQ/mic setup.
Remember by planning ahead of time we're not saying you don't get to be creative. But by planning the foundation of your song ahead of time you will be FREE to be more creative in the studio. If you have your part down and you go in and decide that the tempo or foundation needs to be shifted, then that's great! You should expect this to happen on at least 1 or 2 songs of a 10 song album. By being prepared for your part you can have better collaboration and creativity with your band and the engineer on what you don't know. The point is to find this out as soon as possible so you aren't spending money on lots of retakes that you could have minimized by being prepared.
About this Series:
From the time you sign up and pay your initial fee to reserve the studio you have some work to do in order to ensure that the core of each song is ready to go when you reach the studio. The next blog post will have more tips on getting your album recorded for a third of the cost of professional bands!