I've recently been working on sharing value and the art that is inside of me and encouraging others to do the same, if you'd like to read about it… Share Your Music: Call Yourself an Artist. It's been difficult at times to come up with some objective way to address the challenges that confront me on a daily basis and specifically call them out.
Enter War of Art by Steven Pressfield.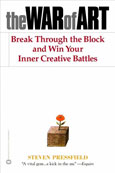 The War of Art is an incredible explanation of the resistance inside us that often can't be explained. Defining what the problem is is the first step in facing the resistance full steam ahead. Once it is defined you might have a chance to tackle the resistance that constantly presses up when trying to accomplish anything of value. This is a great book with descriptive imagery that paints a picture of the subjective problem 'how to create art' and defeating that war within us. Pressfield has described it where I have a mental visual how to defeat it on a daily basis. Along the way you're able to hear about resistance's relationship to Steven Pressfield's personal desire to be a writer and author. Worth your time.